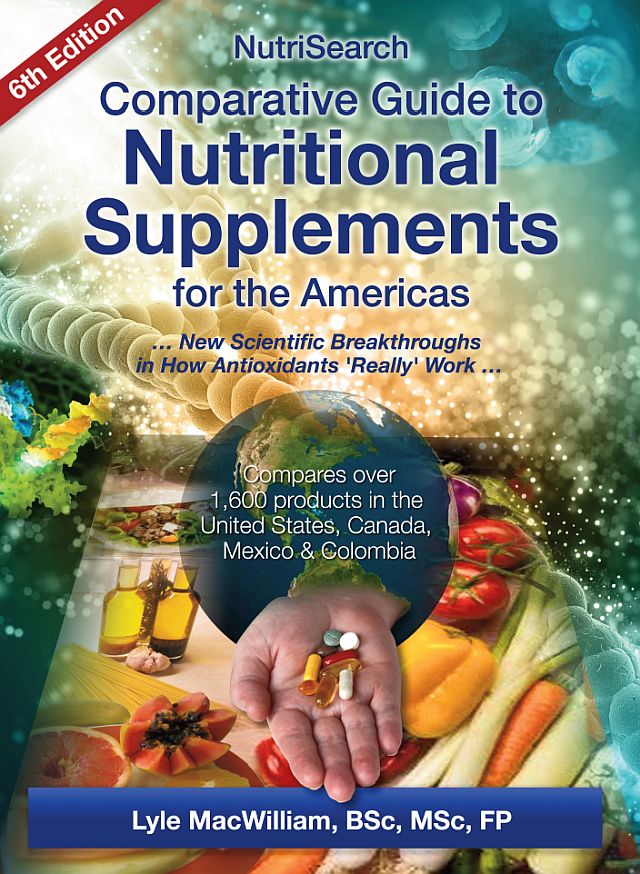 ePub Digital: NutriSearch Comparative Guide to Nutritional Supplements for the Americas
PLEASE NOTE: This digital product requires the free Flux Player from Flickrocket.com. Download and installation instructions will be emailed to you after purchase.

Also available from Amazon Kindle and Kobo.
The NutriSearch Comparative Guide to Nutritional Supplements™, sixth edition, is far more than an update: the guide has been completely rewritten in light of recent groundbreaking discoveries from the world of nutritional research.
A huge change in our scientific understanding of how dietary antioxidants really work required a huge change in the guide; with the release of our latest edition, this is just what NutriSearch provides. Very recent scientific evidence has now established that most dietary antioxidants do not work the way we thought they did. Rather than confront aggressive and powerful free radicals in direct hand-to-hand combat, biologically relevant antioxidants activate the cell s own HEAVY GUNS its endogenous antioxidant defences, honed over two billion years of evolution.
This emergent scientific understanding in cellular antioxidant defence is a real game-changer. It presents a quantum perceptual leap a paradigm shift for an industry where very few players are even aware that the game itself has been transformed.
Learn how the immutable laws of quantum chemistry and reaction kinetics rule against direct free radical scavenging by common antioxidants.
Read how science has, for decades, inadvertently focused on the wrong antioxidants.
Examine how plant-based antioxidants can paradoxically change into oxidants, capable of tapping evolutionarily conserved mechanisms of cell signalling to trigger key genetic switches.
Find out how nuclear transcription factor Nrf2, a key ON/OFF switch that controls expression of over 500 genes, can influence oxidative stress, inflammation, disease resistance, and progression of the aging process itself.
Discover how the practice of calorie restriction, regular exercise, and the consumption of select plant-based nutrients may improve both our healthspan and our lifespan.
With exhaustive market research on over 1,600 nutritional supplements in the United States, Canada, Mexico, and Colombia, find out how our completely revised analytical criteria now incorporating the exciting science of cell signalling rate your favourite nutritional products.